Foods to eat and avoid during tamoxifen treatment
Last updated: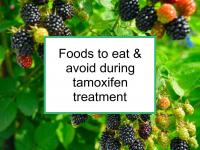 Foods to eat & avoid during tamoxifen treatment
Tamoxifen side effects
Since tamoxifen is life-saving, with proven effectiveness in preventing ER+ breast cancer and its recurrence, every effort should be made to complete treatment as prescribed. Side effects may be easier to tolerate if they are known to be typical. Knowledge of possible side effects can also encourage tamoxifen users to seek medical help, if needed.
Tamoxifen is also associated with higher risk of developing blood clots. However, there are some foods that can protect against blood clots while not interfering with tamoxifen's effectiveness (see below). Tamoxifen can contribute to skin problems and hair loss in some women. There is also some evidence that long-term tamoxifen use might increase the risk of macular degeneration.
Tamoxifen influences cholesterol levels
Breast cancer typically eventually develops resistance to tamoxifen. Using tamoxifen can reduce cholesterol levels, which can rebound at the end of tamoxifen treatment. There is some evidence that breast cancer cells that don't respond to tamoxifen may be using cholesterol to shield themselves against the drug. While it is not clear that reducing dietary cholesterol would greatly affect this process, it may make sense for breast cancer patients on tamoxifen to reduce their cholesterol to low-normal levels.
Tamoxifen might increase risk of type 2 diabetes
Tamoxifen and body weight
Micronutrients may influence tamoxifen treatment
Foods that enhance the effectiveness of tamoxifen treatment
The following foods (or major components) have been found to increase the anti-breast cancer effects of tamoxifen treatment or safely reduce its side effects:
Foods that should be limited or avoided during tamoxifen treatment
The following foods (or major components) have been found to reduce the effectiveness of tamoxifen:
Supplements for patients taking tamoxifen
There is no supplement or combination of supplements that has been proven to reliably reduce the risk of ER+ breast cancer recurrence in women. Attempting to take advantage of the apparent treatment effects of micronutrients and other dietary components by using supplements carries the risk of adverse and paradoxical effects, including promoting breast cancer growth and metastasis.
The following supplements generally have been found to be safe and beneficial for those being treated with tamoxifen:
Please consult your oncology team for advice concerning your situation and dosages. It might make sense to be tested for deficiency in vitamin D and plan for follow up to determine if your reading has reached a desirable level.
Supplements, vitamins & other exposures to be avoided on tamoxifen
The supplements below have been found to reduce the effectiveness of tamoxifen or increase its side effects. That is not to say that most other supplements are safe to take; there are no relevant scientific studies concerning the interactions between most supplements and tamoxifen.
Foods that reduce the risk of blood clots
The foods below have been reported to decrease the likelihood of blood clots while protecting against breast cancer risk.
Foods that reduce cholesterol
The following foods have been shown to improve cholesterol profile while at the same time protecting against breast cancer:
Foods that increase cholesterol
The following foods have been shown to worsen cholesterol profile:
Additional comments
Tamoxifen is effective in preventing ER+ breast cancer and in treating early stage disease, but this effectiveness may be lost over time. Also, tamoxifen does not prevent ER- breast cancer. If the cancer progresses despite tamoxifen treatment, it is more likely to recur as ER- disease, which is normally more aggressive than ER+ breast cancer.
Selected breast cancer studies