EGCG has anti-cancer effects in tamoxifen-resistant cells
Posted: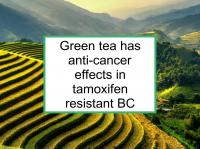 Green tea improves tamoxifen resistant BC
A new study has elucidated the molecular mechanisms by which (-)-Epigallocatechin-3-gallate (
EGCG
), a compound found in
green tea
, exerts anti-cancer effects in
tamoxifen
breast cancer cells. The authors examined the effects of EGCG treatment on three plasma membrane proteins involved in drug resistance.
EGCG treatment was found to inhibit cancer cell growth and cause dose-dependent cell death. In fact, EGCG was found to downregulate the activity of two of the three molecules studied.
These molecules play a key role in drug metabolism and transport and are highly expressed in tamoxifen-resistant breast cancer cells.
The authors conclude that EGCG should be studied further in combination with drugs used to treat estrogen-sensitive breast cancer.
Please see our article on how to optimize your breast cancer diet for information on what to eat during all stages of treatment and recovery.
Selected breast cancer studies
EGCG Stabilizes p27kip1 in E2-Stimulated MCF-7 Cells through Down-Regulation of the Skp2 Protein

Cite

Huang H, Way T, Lin C, Lin J. EGCG Stabilizes p27kip1 in E2-Stimulated MCF-7 Cells through Down-Regulation of the Skp2 Protein. Endocrinology. The Endocrine Society; 2008; 149:5972-5983

10.1210/en.2008-0408

Green tea intake, MTHFR/TYMS genotype and breast cancer risk: the Singapore Chinese Health Study

Cite

Inoue M, Robien K, Wang R, Van Den Berg DJ, Koh W, Yu MC. Green tea intake, MTHFR/TYMS genotype and breast cancer risk: the Singapore Chinese Health Study. Carcinogenesis. Oxford University Press (OUP); 2008; 29:1967-1972

10.1093/carcin/bgn177