Thyme is recommended for breast cancer in moderation
Last updated: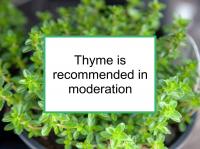 Thyme is recommended for breast cancer in moderation
Breast cancer-related effects of eating thyme
Epidemiological study
A major Italian population study reported that the risk of breast cancer was reduced for increasing intake of flavones such as the apigenin and luteolin found in thyme.
Apigenin and luteolin
Ursolic acid
Ursolic acid has been shown to reverse multidrug resistance in breast cancer cells. For example, one study found that ursolic acid reversed resistance to Taxol in Taxol-resistant triple negative breast cancer. Another study reported that ursolic acid resensitized multidrug resistant ER+/PR+ breast cancer cells to Adriamycin. Still another study published in 2021 demonstrated that ursolic acid also increased the sensitivity of triple negative breast cancer cells to Adriamycin.
Rosmarinic Acid
Carotenoids
Additional comments
Even organic thyme tends to incorporate meaningful levels of heavy metals, which is why thyme should be consumed in moderation.
One 2020 study using a mouse model found that thyme extract inhibited the magnitude and frequency of oxytocin-induced uterine contractions more than controls, results which are suggestive but difficult to interpret in light of the relatively high doses used in the experiment (oxytocin has been shown to reduce proliferation of breast cancer cells). Based on the available evidence, the amounts of thyme normally used as a herb or spice in food probably are safe, however very frequent or highly concentrated uses (such as in thyme pesto sauce) might not be.
Selected breast cancer studies