Strawberries are recommended for breast cancer
Last updated: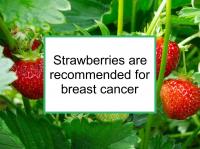 Strawberries are recommended for breast cancer
Strawberries and their components have been shown to inhibit proliferation and induce apoptosis of lung, cervical, liver, colon and prostate cancer cells. Strawberries and strawberry extracts have been found to inhibit the development of oral cancer in hamsters and tumor development in the rat esophagus. Consumption of strawberries was found to be associated with lower risk of esophageal cancer in one large U.S. population study. Strawberry consumption has also been found to be associated with reduced risk of head and neck and colorectal cancers.
Breast cancer-related effects of eating strawberries
Berry consumption is associated with reduced breast cancer risk. Strawberries are a source of a variety of compounds with anti-cancer activities, including micronutrients that have been shown to increase the beneficial effects of breast cancer treatment.
Strawberry extract
Studies have also reported that mice fed strawberry extract-enriched diets have lower tumor growth than mice fed a control diet in experimental models of triple negative and HER2+ breast cancer.
Fisetin
Pelargonidin
Ellagic acid
Ellagic acid, also found in strawberries, has also been shown to reduce the proliferation of ER+/PR+ breast cancer cells and to be effective in the prevention of estrogen-induced mammary tumors in rats.
Additional comments
Selected breast cancer studies