Strawberries are recommended for breast cancer
Last updated: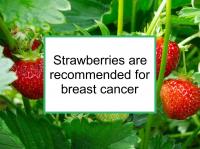 Strawberries are recommended for breast cancer
Strawberries and their components have been shown to inhibit proliferation and induce apoptosis of human lung, cervical, liver, colon and prostate cancer cells. Strawberries and strawberry extracts have been found to inhibit the development of oral cancer in hamsters and tumor development in the rat esophagus. Consumption of strawberries was found to be associated with lower risk of esophageal cancer in one large U.S. population study. Strawberry consumption has also been found to be associated with reduced risk of head and neck and colorectal cancers.
Breast cancer-related effects of eating strawberries
Although strawberries rank among the highest fruits in antioxidant properties and contain known chemopreventive compounds, the evidence with respect to breast cancer suggests the chemopreventive effect may be limited. Numerous studies have found that strawberry extracts inhibit the growth and proliferation of human breast cancer cells.
On the other hand, a 2009 study found that strawberry polyphenols had similar cytotoxic effect on normal cells as on breast cancer cells from the same tissue derived from the same patient, suggesting that strawberries may not be effective in reducing breast cancer risk.
Additional comments
Selected breast cancer studies