Sesame seeds and sesame oil have different effects on breast cancer for different women
Last updated: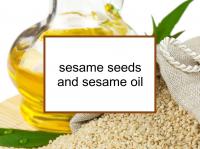 Sesame has varying effects on breast cancer
Breast cancer-related effects of consuming sesame seeds and sesame oil
Enterolactone has chemopreventive properties
Enterolactone has also been found to increase the sensitivity of breast cancer cells to radiation, thereby potentially enhancing the treatment effects of radiotherapy.
Sesame has the potential to promote breast cancer
Bottom line
Those with triple negative or inflammatory breast cancer and those being treated with tamoxifen should avoid sesame seeds, sesame seed oil, and related foods such as tahini and halvah. The impact of sesame seeds and sesame seed oil on ER+ breast cancer risk appears to depend, in part, on overall diet.
Additional comments
Highly refined sesame oil is less desirable than extra-virgin or cold pressed sesame oil since refining greatly reduces the lignin content of the oil.
There is some evidence that breathing cooking oil fumes can contribute to lung cancer and that sesame oil heated to the smoking point may act as a carcinogen.
Sesame paste and sesame seed butter produced in China are subject to less stringent quality and safety standards than U.S. products and even these lower standards may not be met. One Chinese study found aflatoxin B1 in 37 of 100 sesame paste samples measured. Sesame seeds are prone to molds which produce aflatoxins, which are mutagenic, carcinogenic and teratogenic and cause immuno-suppression in humans. Aflatoxin B1 has been shown to cause liver cancer, especially in hepatitis B-positive individuals. However, note that the dark color of Chinese sesame oil is due to the fact that the seeds are roasted before processing, not because of any contamination. Cold-pressed sesame oil made from raw sesame seeds is close to colorless.
Selected breast cancer studies