Garlic is highly recommended for breast cancer
Last updated: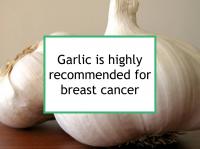 Garlic is highly recommended for breast cancer
Breast cancer-related effects of eating garlic
Epidemiological studies
One large European study found that eating onions and garlic was associated with lower risk of breast cancer. Another large Italian population study found a relationship between the consumption of increasing intake of flavones and flavonols found in allium vegetables and a reduction in the risk of breast cancer. A Korean study found an association between onion and garlic consumption and lower incidence of breast cancer.
Raw garlic
Organosulfur compounds
The anti-carcinogenic effects of allium vegetables such as garlic are attributed in part to organosulfur compounds (ajoene, diallyl sulfide, diallyl disulfide, diallyl trisulfide, diallyltetrasulfide, dipropyltetrasulfide, among others). Ajoene has been demonstrated to interfere with protein folding in triple negative breast cancer cells, which in turn causes their death.
Diallyl disulfide has been shown to decrease carcinogen-induced cancers in experimental animals. Diallyl disulfide has also been demonstrated to induce apoptosis (programmed cell death) in hormone receptor positive (ER+/PR+) breast cancer cells. Diallyl trisulfide has been shown to suppress breast cancer cell invasion and metastasis, thereby delaying the onset or progression of breast cancer. Diallyl trisulfide has also been found to inhibit triple negative breast cancer cell proliferation and metastasis.
Apigenin
Enterolactone
Garlic supplements can interfere with chemotherapy
Additional comments
Selected breast cancer studies