Salmon is recommended for breast cancer in moderation
Last updated: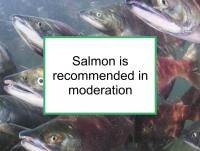 Salmon is recommended in moderation
Mercury and other potential salmon contaminants
Generally speaking, the benefits of consuming fatty fish, including salmon, are thought to outweigh the potentially detrimental effects of the toxins from pollution and other sources that tend to accumulate in their adipose tissue. Salmon is considered a low mercury fish.
Wild caught compared to farmed salmon
Wild salmon caught in the open ocean have been shown to incorporate lower levels of contaminants than farmed salmon. Farmed salmon feed consists of a concentrated mix of fishmeal and fish oil that tends to be high in contaminants. Some of the feed now used is plant-based, partly in response to the contaminant problem and partly because it is less costly than fish oil.
Food coloring is often added to farmed salmon feed because otherwise the salmon would not have the brilliant color of wild salmon. In addition, farmed salmon are treated with antibiotics, pesticides and hormones in the struggle to keep them growing and healthy in the massively crowded conditions of the pens in which they are raised. Therefore, wild salmon is a better choice than farmed salmon.
Generally speaking, farmed salmon from the North Atlantic (including near Scandinavia) tend to have the highest levels of contaminants, Pacific North American farmed salmon have moderate levels, and Pacific South American farmed salmon have the lowest levels. However all farmed salmon have higher levels than the levels found in wild salmon. Based on fairly stringent toxin allowances, people can safely eat up to two servings of farmed salmon (up to 12 ounces, total) per month and up to eight servings of wild salmon.
Removing the skin from salmon is recommended to reduce the level of contaminants ingested. Farmed salmon consumption should be avoided by pregnant women and nursing mothers due to its contaminant content.
Breast cancer-related effects of eating salmon
Human studies
In addition, several studies have found that higher omega-3 compared to omega-6 fatty acid intakes are associated with reduced risk of breast cancer; consuming wild salmon would tend to improve this ratio for most women.
Astaxanthin
Note that synthetic astaxanthin has significantly less antioxidant properties than algal-based astaxanthin and may be be unsuitable as a dietary supplement, according to one study.
Marine omega-3 fats
EPA and DHA have been shown to inhibit proliferation of breast cancer cells in the laboratory. In one experiment, higher omega-3 to omega-6 fatty acid diets reduced mammary gland density in mice, which in turn reduced carcinogen-induced mammary tumor development.
Additional comments
GMO salmon
The U.S. Food and Drug Administration (FDA) has approved genetically modified (GMO) farmed salmon to be sold in the U.S. (without any labeling requirements in restaurants). The salmon grows to market size in as little as half the time as non-engineered salmon.
The GMO salmon contains a growth hormone gene from the Chinook salmon and a genetic switch from the ocean pout (an eel-like sea creature), that ensures that the transplanted gene is continuously active. Normal salmon growth hormone gene is active only parts of the year. Although the FDA has declared the fish safe for human consumption, it will take years to gain meaningful information on the consequences to human health of consuming it.
Raw salmon
Salmon sashimi, nigiri and other raw salmon preparations should be avoided since they have the potential to cause infection with parasites. In early 2017, it was reported that some wild Pacific salmon are infested with tapeworm larvae.
Pan-fried salmon
Smoked salmon
Arctic char
Arctic char is a high-omega-3 fatty fish related to salmon and is likely to have a similar health profile. However, note that most of the arctic char available in the U.S. is farm raised.
Selected breast cancer studies