Type 2 diabetes increases breast cancer risk
Last updated: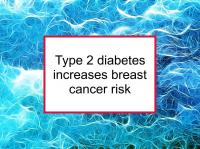 Type 2 diabetes increases breast cancer risk
Women with type 2 diabetes also tend to be diagnosed with breast cancer at later stages than non-diabetics. Type 1 diabetes does not appear to be associated with increased risk.
Metabolic syndrome
Insulin resistance
People with obesity, metabolic syndrome, glucose intolerance, and/or type 2 diabetes normally are insulin resistant. This means that a given level of insulin produces a lower-than-expected biological effect. Therefore, the body requires more insulin to control blood sugar and the pancreas will respond by increasing insulin secretion as long as it is able (in later stages of type 2 diabetes, the pancreas starts to give out and insulin shots are required to obtain the level necessary to control blood sugar).
Diabetes treatments
Metformin
Metformin has complex interactions with breast cancer and there is evidence that it might not be helpful in women without insulin resistance. A major 2023 study reported that metformin taken for five years did improve disease–free survival among women with early stage operable breast cancer who did not have type 2 diabetes.
Insulin glargine (Lantus) and insulin
However, this is a controversial topic and not settled. For example, one study using a mouse model of type 2 diabetes and breast cancer reported that insulin glargine at high concentrations did not promote the progression of breast tumors.
Sulfonylurea derivatives (Glipizide)
A major 2017 study reported that use of sulfonylureas such as Glipizide by women on Medicare was associated with 1.49 times higher risk of breast cancer-specific death, whereas use of Metformin was associated with 40% lower risk. Another study reported that use of sulfonylureas was associated with increased breast cancer-specific mortality, especially among women who developed type 2 diabetes after breast cancer.
Tamoxifen
Diet
Foods that can help with blood sugar, insulin sensitivity and/or circulating insulin
The following foods have been shown to help regulate glucose, increase insulin sensitivity and/or reduce circulating insulin or insulin-like growth factors levels while also protecting against breast cancer:
Foods that may increase insulin resistance or increase the risk of diabetes
Foods with a high glycemic index
Selected breast cancer studies