Bell peppers are recommended for breast cancer
Last updated: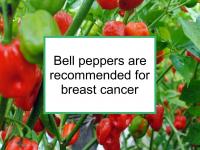 Bell peppers are recommended for breast cancer
Bell peppers have been shown to have anti-inflammatory, antioxidant, radioprotective, and antimutagenic properties and may help lower cholesterol levels.
Breast cancer-related effects of eating bell peppers
Several Korean studies have found an association between bell pepper consumption and lower incidence of breast cancer. On the other hand, green pepper consumption was not found to have a significant inverse association with breast cancer in a Nurses Health Study II study.
Apigenin
Quercetin
Carotenoids
Additional comments
Sources of information provided in this webpage
The information above, which is updated continually as new research becomes available, has been developed based solely on the results of academic studies. Clicking on any of the underlined terms will take you to its tag or webpage, which contain more extensive information.
Selected breast cancer studies