Beef is not recommended for breast cancer
Last updated: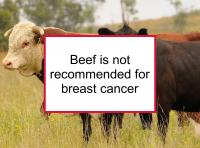 Beef is not recommended for breast cancer
Breast cancer-related effects of eating beef
Human studies
Beef growth promoters can be estrogenic
Red meat intake may reduce circulating melatonin
Bovine leukemia virus has been linked to breast cancer
High levels of iron can promote breast cancer
While it is important to avoid iron deficiency anemia, the contribution of excess heme iron in the diet as a result of regularly consuming beef (especially liver) could be detrimental for some women. Relatively high levels of iron in benign breast tissue was found in one prospective study to be associated with an increase in risk of subsequent breast cancer.
The addition of iron to breast cancer cells and their microenvironment has been demonstrated to protect them from being killed by natural killer cells. At the same time, iron depletion has been shown to lead to significant inhibition of breast cancer cell growth in the laboratory.
Excess copper may promote metastasis
Although copper is a vital nutrient, breast cancer patients and survivors should not exceed the RDA (recommended dietary allowance) of approximately 0.9 mg. Pan-fried beef liver contains approximately 16.4 mg copper per four oz. serving; beef skirt steak contains about 0.11 mg.
Arachidonic acid can promote breast cancer
Canned meat can be source of BPA exposure
Additional comments
Well-done, flame-broiled or BBQ beef especially are to be avoided. This includes fast-food hamburgers. Although they are traditionally used as a base for gravies and sauces, be aware that fat drippings and grill residue scrapings contain particularly high levels of HCAs and ideally should be discarded.
If beef or veal is to be consumed, it makes sense to buy grass-fed organic beef to obtain a more favorable fatty acid profile and avoid growth hormone-treated meat. This will also eliminate irradiated beef, which appears to be safe, but about which concerns have been raised by some researchers concerning the alkylcyclobutanones that are generated during irradiation. Given its high level of saturated fat, tallow (rendered beef fat) is to be avoided even if organic and sourced from grass-fed beef. Angus beef has high amounts of marbling (i.e., fat) and is not organic or grass fed unless so labeled.
The beef industry appears to take an active interest in academic studies concerning the health benefits and drawbacks of beef. The Cattlemen's Beef Board finances some cancer-related studies, raising the question of objectivity. The tone of non-U.S. studies can appear more forthright than the constrained and cautious tone of some U.S. studies.
Sources of information provided in this webpage
The information above, which is updated continually as new research becomes available, has been developed based solely on the results of academic studies. Clicking on any of the underlined terms will take you to its tag or webpage, which contain more extensive information.
Selected breast cancer studies