Walnuts are recommended for breast cancer in moderation
Last updated: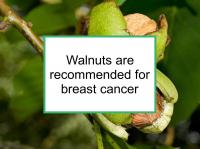 Walnuts are recommended for breast cancer
Breast cancer-related effects of consuming walnuts
Walnuts, walnut oil and walnut micronutrient consumption is associated with reduced breast cancer risk. Walnuts are a source of a variety of compounds with anti-cancer activities, including some that have been shown to increase the beneficial effects of breast cancer treatment.
Human study
One 2019 study demonstrated that adding 2 oz. of walnuts per day to the diets of women with breast cancer altered the expression of 456 genes in their tumors during the time between their breast biopsies and lumpectomies approximately two weeks later. The changes were favorable: pathways that promote apoptosis and cell adhesion were activated whereas pathways that promote cell proliferation and migration were inhibited.
Walnut extracts in animal and cell studies
Alpha-linolenic acid (ALA)
Gamma-tocopherol, a form of vitamin E
As noted above, walnuts are a very good source of gamma-tocopherol (γ-tocopherol), which has greater chemopreventive effects than other forms of vitamin E. Gamma-tocotrienol has been shown to inhibit ER+/PR+ and triple negative breast cancer cell growth in a dose-dependent manner, without affecting normal breast cells.
One study using a mouse model of breast cancer reported that gamma-tocotrienol given as part of the diet suppressed tumor growth. The same study also reported that gamma-tocotrienol inhibited colony formation of both mouse mammary and human breast cancer cell lines. Colony formation refers to the ability of a single cell to grow into a colony consisting of at least 50 cells.
Ellagic acid
Copper
Walnuts should be consumed in moderation since they contain some copper (approximately 0.45 mg per ounce), which can promote angiogenesis. While copper is a vital nutrient, women with breast cancer probably should not exceed the RDA (recommended daily allowance) of approximately 0.9 mg.
Refined walnut oil contains essentially no copper. Cold pressed walnut oil is made from nuts that are dried and then cold-pressed, preserving their nutrient content. However, refined cold pressed oil is best since refining helps eliminate copper. Walnut oil should be stored refrigerated and is best used at room temperature (e.g. in salad dressings) rather than in frying.
Additional comments
Pecans are related to walnuts but have a somewhat less favorable omega-3 fatty acid and phytochemical profile than walnuts.
Selected breast cancer studies