Foods to eat and avoid during Adriamycin chemotherapy
Last updated: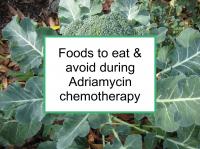 Foods to eat & avoid during Adriamycin chemotherapy
Foods that enhance effectiveness of Adriamycin or safely reduce side effects
The following foods are very good sources of compounds that have been shown to increase the anti-cancer effects of Adriamycin or reduce its side effects without interfering with treatment:
Fruits and vegetables should be washed thoroughly before cooking or consuming. This includes the exterior of fruits such as watermelon since cutting through the rind can transfer bacteria such as salmonella to the flesh.
Topical application of honey has been shown to be effective in reducing the severity of chemotherapy-induced oral mucositis.
Supplements for patients being treated with Adriamycin
There is no supplement or combination of supplements that has been proven to reliably reduce the risk of breast cancer recurrence in women. Attempting to take advantage of the apparent treatment effects of micronutrients and other dietary components by using supplements carries the risk of adverse and paradoxical effects, including promoting breast cancer growth and metastasis.
The following supplements generally have been found to be safe and beneficial for those being treated with Adriamycin:
Avoid taking supplements during the two days before, the day of, and the day after each chemotherapy treatment. Please consult your oncology team for advice concerning your situation and dosages. It might make sense to be tested for deficiency in vitamin D and plan for follow up to determine if your reading has reached a desirable level.
Foods that should be limited or avoided while on Adriamycin
The following foods have been found to interfere with the effectiveness of treatment with Adriamycin:
Supplements & other products that should not be used on Adriamycin
The following vitamins, supplements and other products have been found to interfere with the effectiveness of Adriamycin. That is not to say that most other supplements are safe to take; there are no relevant scientific studies concerning the interactions between most supplements and Adriamycin.
Hesperidin and saffron could reduce effectiveness of cyclophosphamide
Neutral foods for use during Adriamycin chemotherapy
BPA and BBP can interfere with effectiveness of Adriamycin chemotherapy
Weight loss and weight gain during chemotherapy
Exercise during chemotherapy
Selected breast cancer studies