Fasting during chemotherapy
Last updated: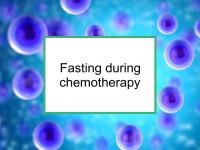 Fasting during chemotherapy
Calorie restriction without malnutrition has been found to extend the healthy lifespans of cancer-prone laboratory animals. Multiple periods of intermittent caloric restriction have been demonstrated to be even more effective in inhibiting mammary tumors in mice than continuous low calorie diets.
Calorie restriction reduces factors associated with cancer
Reducing energy availability with exercise is not equivalent
Effects of calorie restriction on breast cancer development
Calorie restriction has been shown to be broadly effective in preventing cancer in laboratory animals. Cancer cells metabolize glucose at elevated rates and have a higher sensitivity to glucose reduction. Chronic calorie restriction inhibits mammary tumor development in mice. However, multiple periods of intermittent caloric restriction are even more effective in inhibiting mammary tumors. One study found that periods of severe calorie restriction accompanied by weight loss had a protective effect on mammary tumor development even if the weight was regained.
Effects of fasting on breast cancer during chemotherapy
Chemotherapy can expose patients to toxic side effects such as heart damage and a reduction in the production of blood cells. Fasting protects normal cells from the toxic effects of chemotherapy while sensitizing cancer cells to the treatment. Normal cells deprived of nutrients during fasting enter a dormant state, whereas cancer cells attempt to keep growing and dividing, exposing them to treatment.
It has been suggested that a schedule of fasting for a few days before, during, and day after the date of chemotherapy would enhance its treatment effects while providing protection against toxic side effects. However, fasting during chemotherapy should only be undertaken with the guidance and supervision of your oncology team.
Metformin has effects on breast cancer similar to fasting
Is fasting during chemotherapy a good idea?
More studies and human trials are required before it can be determined whether fasting during chemotherapy is a safe and effective way to reduce the toxic side effects of chemotherapy while enhancing its treatment effects. The finding that rats deprived of protein increases Adriamycin-induced cardiomyopathy is troubling and suggests that patients should not attempt fasting. Fasting might also cause health problems in some women.
Rodents are different from human beings in many ways and are not a good model for assessing the long-term effects of a proposed treatment strategy. Fasting during chemotherapy could have unintended long-term consequences. For example, it is not implausible that fasting could trigger cancer cell adaptive systems (to cope with the stress of a lack of nutrients). This in turn could result in a rebound effect in any cancer cells not killed by chemotherapy, an effect that could heighten their aggressiveness.
Selected breast cancer studies