Kaempferol reduces ER+/PR+ breast cancer proliferation
Posted: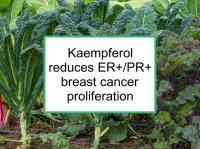 Kaempferol reduces ER+/PR+ proliferation
Flavonoid types
Kaempferol helps protect heart from Adriamycin chemotherapy
Not so for kaempferol, which appears to use a mitochondrion-dependent pathway to inhibit the Adriamycin-induced cardiotoxicity. It has been demonstrated that the cytotoxicity of doxorubicin against cancer cells is not reduced by exposure of the cells to kaempferol.
Latest research finds kaempferol reduces ER+/PR+ breast cancer glucose uptake
Myricetin, chrysin, genistein, resveratrol, kaempferol, and xanthohumol (at concentrations of 10-100 µM) all were found to inhibit glucose uptake in the short-term (26 minutes). Kaempferol was the most potent short-term glucose uptake inhibitor. Kaempferol (30 µM) was also able to inhibit glucose uptake (associated with a 40% decrease in GLUT1 mRNA levels) in the long-term (defined as 24 hours). At 100 µM, kaempferol demonstrated antiproliferative and cytotoxic properties similar to those caused by low extracellular glucose conditions and reversible by high extracellular glucose conditions. In addition, exposure of MCF-7 cells to kaempferol (30 µM) caused higher extracellular lactate levels over time as a result of inhibition of cellular lactate uptake.
The authors conclude that kaempferol potently inhibits glucose uptake by ER+/PR+ breast cancer cells, apparently by decreasing GLUT1-mediated glucose uptake. The authors further comment that the antiproliferative and cytotoxic effect of kaempferol in these cells appears to be dependent on this effect.
Selected breast cancer studies