High omega-6 in cooking oils interferes with vegetable omega-3
Posted: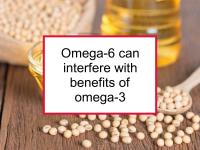 Omega-6 can interfere with benefits of omega-3
The peak circulating docosahexaenoic acid (>8% of total fatty acids) was produced by a narrow dietary range of 1 to 3% of calories from alpha-linolenic acid and 1-2% calories from linoleic acid. Circulating docosahexaenoic acid was suppressed to basal levels (approximately 2% of total fatty acids) at dietary intakes of total polyunsaturated fatty acids (alpha-linolenic acid plus linoleic acid) at levels above 3% of total calories.
The authors conclude that it is possible to enhance the docosahexaenoic acid status of rats fed diets containing alpha-linolenic acid as the only source of omega-3 fatty acids but only when the level of dietary polyunsaturated fatty acids is low.
Selected breast cancer studies