Family history of prostate cancer linked to heightened BC risk
Posted: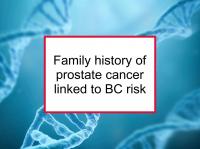 Prostate cancer family history linked to BC risk
The degree of extra risk varies according to whether the family members with breast cancer are first degree relatives (parent, sibling or child) or second degree relatives (grandparent, aunt/uncle, half-sibling), and whether the disease has been diagnosed in multiple family members.
Breast cancer inherited from fathers is different
Some other cancers in men are linked to breast cancer in daughters
Latest research finds familial prostate cancer increases breast cancer risk
The study referenced at the beginning of this news article was designed to investigate the relationship between breast cancer and prostate cancer in families, particularly among African Americans. The study included 78,171 initially cancer-free participants in the Women's Health Initiative observational cohort. A total of 3,506 of the women were diagnosed with breast cancer through August, 2009. The analysis was adjusted for known breast cancer risk factors.
A family history of prostate cancer was found to be associated with a modest 14% increase in breast cancer risk. However, a family history of both breast and prostate cancer was associated with a 78% increase in risk. The risk was even higher among African-American women with familial breast and prostate cancer: 2.34 times the risk of similar white women. The authors conclude that prostate cancer diagnosed among first degree family members heightens a woman's risk of developing breast cancer. The relative contributions of genes and a shared environment need to be determined in future studies.
Selected breast cancer studies