Low levels of omega-3 fats linked to increased bone metastasis
Posted: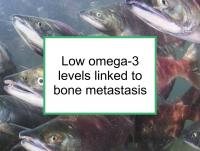 Low omega-3 levels linked to bone metastasis
Now a new study has reported that premenopausal women with low levels of long-chain omega-3 fats at diagnosis are more likely eventually to develop bone metastases.
Foods with significant omega-3 content
Latest research links low omega-3 fat levels with bone met development
Levels of long-chain omega-3 polyunsaturated fatty acids in the stored breast tissue samples collected during surgery were found to be negatively associated with eventual development of bone metastases in premenopausal women. In other words, women with high levels of EPA and DHA were less likely to develop bone metastases if they were diagnosed with breast cancer before menopause. No significant equivalent relationship was found in postmenopausal women. The authors conclude that, in addition to luminal phenotype and positive lymph node status, low levels of long chain omega-3 fats at diagnosis may increase the risk of bone metastasis formation in premenopausal women.
Selected breast cancer studies