Fish fats reduce BC risk whereas some other types of fat increase it
Posted: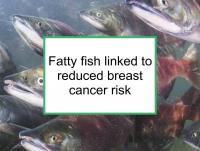 Fatty fish linked to reduced breast cancer
The study referenced above was designed to investigate the links between specific dietary fat intake and risk of breast cancer. The study included postmenopausal (age 50 to 76) members of the VITamins And Lifestyle (VITAL) Cohort. The women completed a food frequency questionnaire upon enrollment in 2000-2002. A total of 772 of the participants developed breast cancer during follow up.
Total trans-fatty acid and polyunsaturated acid (a broad category of unsaturated fats that includes omega-3, omega-6 and omega-9 fatty acids) intakes were not associated with breast cancer. However, high intake of the trans-fatty acid linolelaidic acid (the trans fatty acid homolog of linoleic acid found in partially hydrogenated vegetable oils) was associated with increased risk. The authors conclude that different fats have different associations with postmenopausal breast cancer risk.
Selected breast cancer studies