Foods to eat and avoid for inflammatory breast cancer (IBC)
Last updated: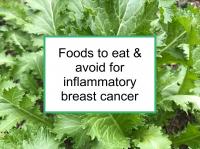 Foods to eat & avoid for inflammatory breast cancer
Foods that reduce the risk of inflammatory breast cancer
Extracts of the foods listed below have been reported to oppose the growth or progression of inflammatory breast cancer:
The following foods have components that have been shown to inhibit the EGFR receptor. These foods have also been associated with reduced risk of breast cancer in general.
Exposure to bisphenol A should be avoided
Genistein should be avoided
Copper could promote the growth of inflammatory breast cancer
Unless you are anemic, the U.S. Recommended Dietary Allowance (RDA) for copper of approximately 0.9 mg per day for adults can be used as a guide. It makes sense not to exceed this intake, on average, but not to fall far below it either.
Copper cookware, copper jewelry and jewelry made from copper alloys, such as red, rose or pink gold, are other potential sources of copper exposure. It has been demonstrated that copper bracelets can deliver copper and other minerals through the skin. Soldering or otherwise working with copper or copper alloys can also result in exposure. Living near copper (or gold and copper) mining or smelting operations can result in inhalation of airborne dust containing copper. Note that while outright copper deficiency is rare in the U.S., women with low iron stores are at risk of anemia if they do not have adequate copper intake.
Antiperspirants containing aluminum compounds should be avoided
Most antiperspirant sprays, sticks, and roll-ons contain aluminum chlorohydrate or other aluminum salts to block the secretion of sweat. The aluminum in such preparations has been shown to enter through the skin in tiny amounts and accumulate in all types of breast tissue. Applying an antiperspirant to skin that is scraped, cut or irritated (such as may occur after shaving) can result in far higher exposures. Aluminum has been shown to cause DNA damage and to induce inflammatory responses within the breast. Given the increase in inflammation induced by aluminum, IBC patients should probably entirely avoid using aluminum-containing antiperspirants and deodorants.
Additional comments
Selected breast cancer studies