Genistein promotes proliferation and metastasis in IBC animal model
Posted: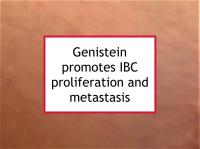 Genistein promotes IBC proliferation and metastasis
Latest research finds genistein promotes IBC inflammation & metastasis
The study referenced above was designed to investigate the effects of genistein in an animal model of IBC. The structural similarity of genistein to estrogen allows it to bind at the cellular level with estrogen receptors. To conduct the study, the authors used a canine inflammatory mammary cancer (canine IC) xenograft model. Canine IC was grafted into mice. Note that canine IC has been found to serve as a suitable model for human IBC. The effects of genistein intake on the cancer xenografts were assessed for three weeks.
The authors conclude that intake of genistein promoted tumor proliferation and elevated metastatic rates by increasing estrogen levels in this animal model of IBC.
Selected breast cancer studies