Studies have not established the effect of chocolate on breast cancer
Last updated: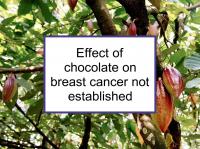 Effect of chocolate on breast cancer not established
Chocolate micronutrients
Chocolate cardiovascular effects
Unlike other saturated fats, stearic acid does not appear to increase cardiovascular risks. Dark chocolate has been found to significantly improve coronary circulation in healthy adults (it improves endothelial function, decreasing both platelet aggregation and blood pressure). In fact, moderate consumption of dark chocolate appears to exert protective effects against the development of cardiovascular disease. Both milk chocolate and dark chocolate are calorie-dense foods, however consumption of both has been linked to lower risk of stroke and heart attack.
Cacao extracts and cancer
Breast cancer-related effects of eating chocolate
Epidemiological studies
However, a 2020 prospective study using data from the Women's Health Initiative Study (with 15-year average follow-up) reported that there was no significant association between chocolate candy intake and risk of invasive breast cancer.
Cell studies of cacao extracts
Chocolate components with anti-breast cancer effects
Catechins
Epicatechin and catechin can be used to build more complex molecules such as proanthocyanidins (which are chains of flavonoids such as flavanols). One study reported that a cocoa-derived procyanidin selectively inhibited the proliferation of ER+/PR+ and triple negative breast cancer cells while sparing normal breast cells.
Ferulic acid
Stearic acid
Stearic acid is a long-chain saturated fatty acid abundant in chocolate. Stearic acid has been shown to inhibit breast cancer cell proliferation, invasion, and migration, and to induce apoptosis in the laboratory. Animal experiments have demonstrated that stearic acid and stearates (salts and esters of stearic acid) can decrease mammary tumor incidence and size.
One study reported that women with high circulating levels of stearic acid had a significantly lower risk of breast cancer than those with lower levels.
Chocolate components that could promote breast cancer
Caffeine
Heavy metals
While it is important to avoid iron deficiency anemia, the contribution of excess iron in the diet as a result of regularly consuming chocolate could be detrimental for some women. Dark chocolate contains approximately 3.37 mg iron per ounce, or 42% of the 8 mg Recommended Dietary Allowance (RDA) for postmenopausal women.
Tumors are iron consumers. Breast cancer cells have abnormal pathways of iron acquisition, storage and regulation, suggesting that reprogramming of iron metabolism is an important aspect of cancer cell survival. Iron has been shown to facilitate cancer cell proliferation, growth, and angiogenesis.
The addition of iron to breast cancer cells and their microenvironment has been demonstrated to protect them from being killed by natural killer cells. At the same time, iron depletion has been shown to lead to significant inhibition of breast cancer cell growth in the laboratory. Relatively high levels of iron in benign breast tissue was found in one prospective study to be associated with increased risk of subsequent breast cancer.
Dark chocolate can also be a significant source of cadmium, which is suspected to promote breast cancer development and growth.
The bottom line
Additional comments
The highest levels of bioactive cacao compounds are found in products with the highest content of cocoa solids (i.e., cocoa liquor, cocoa powder and dark chocolate), while the lowest levels are found in milk chocolate, white chocolate and chocolate bars. In fact, the milk proteins in milk chocolate may inhibit the absorption of cacao flavonoids. Hot chocolate, with its relatively low cacao content and high milk and sugar content, is not likely to be beneficial with respect to breast cancer risk.
Selected breast cancer studies