Factors influencing Adriamycin (doxorubicin) effectiveness
Last updated: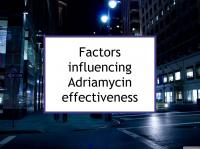 Factors influencing Adriamycin effectiveness
Adriamycin and prescription or over-the-counter drugs
Adriamycin and supplements
Light at night
Iron
Nicotine
Obesity
Exercising during Adriamycin chemotherapy
However, intense exercise during chemotherapy could interfere with treatment effectiveness. One study compared the outcomes of Adriamycin-treated mice who were exercised or not. Moderate-intensity endurance exercise did not significantly influence Adriamycin-induced mammary tumor growth inhibition. However, there was a trend for longer survival for mice treated with Adriamycin only, suggesting that exercise training inhibited Adriamycin's efficacy. Another study reported that intense or prolonged physical activity a couple of days before the start of radiotherapy or chemotherapy has significant potential to reduce the benefits of the treatments.
Based on the available evidence, light to moderate aerobic exercise appears beneficial during treatment with Adriamycin, but heavy or prolonged exercise should be avoided.
Selected breast cancer studies