Reducing inflammation could lower BC risk and increase survival
Last updated: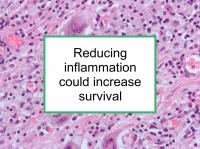 Inflammation could worsen BC survival
Inflammation involves chronic activation of the immune system
Acute inflammation, which occurs after an injury, infection or exposure to certain irritants, results in temporary symptoms such as redness, pain, swelling and heat.
Systemic inflammation, which is the "inflammation" discussed in the remainder of this article, is a persistent state of inflammation that involves the chronic activation of the immune system. This immune system activation results in the release of pro-inflammatory cytokines (small signaling molecules used in intercellular communication) from immune system-related cells. CRP is produced in the liver in response to infection or injury.
Inflammation increases breast cancer risk
Studies of human populations have also found a link between inflammation and breast cancer:
Periodontal disease, which qualifies as a chronic inflammatory disorder, has also been shown to be associated with increased risk of postmenopausal breast cancer.
Inflammation promotes breast cancer recurrence
Growing evidence links inflammation to breast cancer progression. One Danish prospective study was designed to investigate whether circulating CRP levels are associated with breast cancer prognosis. The study included 2,910 women whose CRP levels were measured at the time of diagnosis. A total of 383 women died during up to seven years of follow-up, of whom 225 died from breast cancer, and another 118 women had a recurrence (without dying during the study period). Elevated CRP levels at the time of diagnosis were found to be associated with reduced overall survival and with increased risk of breast cancer-specific death. Five-year breast cancer-free survival was 87% among women with low CRP levels compared to 74% for those with high CRP. Among women with HER2+ tumors, those with the highest compared to the lowest third of CRP levels were 8.6 times more likely to die from any cause.
Another study evaluated the relationship between circulating markers of inflammation and breast cancer survival in 734 disease-free breast cancer survivors in the Health, Eating, Activity, and Lifestyle (HEAL) Study. Circulating CRP protein and serum amyloid A (SAA, another marker of inflammation) were determined approximately 31 months after breast cancer diagnosis. Elevated CRP and SAA were both found to be associated with reduced survival.
Anti-inflammation lifestyle and diet
Numerous studies have also documented the influence of individual foods and food groups on inflammation. Most deeply colored fruits and vegetables have anti-inflammatory properties. Below are anti-inflammatory foods that have also been associated with reduced risk of breast cancer:
Foods that increase inflammation
Selected breast cancer studies