Modern chemotherapy reduces BC death by about a third
Posted: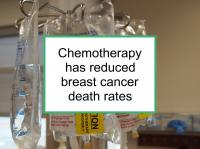 Chemotherapy has reduced breast cancer death rates
The analysis of this data was designed to investigate the efficacy of several types of polychemotherapy regimens used to treat non-metastatic breast cancer after surgery. Polychemotherapy refers to the simultaneous administration of more than one chemotherapy drug. Modest differences in the effectiveness of chemotherapy regimens are plausible, and might influence treatment choices.
The authors comment that breast cancer mortality reduction depends on absolute risks without chemotherapy (which, for ER+ disease, are the risks remaining after taking into account appropriate endocrine therapy). The risk of death after a diagnosis of ER+ disease can be reduced substantially by five years of endocrine treatment (aromatase inhibitor and/or tamoxifen), which is less toxic than chemotherapy. However, according to the study results, chemotherapy plus anti-estrogen treatment was superior to anti-estrogen therapy alone for ER+ disease.
In a separate interview, Richard Peto, one of the leaders of the Early Breast Cancer Trialists' Collaborative Group, said, "Most breast cancers are ER positive, and for ER positive disease that appears to have been completely removed by surgery, the 10-year risk of recurrence and death from breast cancer can be reduced by at least half by giving a combination of a few months of modern chemotherapy plus five years of endocrine therapy."
Selected breast cancer studies