Protecting our daughters from BC — Prenatal period & infancy
Last updated: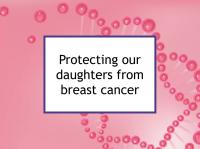 Protecting our daughters from breast cancer
Diet of mother and other factors during pregnancy
Birth weight and breast cancer risk
In summary, while there is some limited evidence that excessive weight gain during pregnancy could increase breast cancer risk in daughters, greatly restricting calories in an attempt to limit birth weight does not appear to be a safe or effective risk reduction strategy. On the other hand, one animal study suggested that exercise during pregnancy could reduce breast cancer risk in daughters.
Effect of high BMI before pregnancy
However, yet another study that included 814 mothers of nurses with breast cancer reported that the mothers' pre-pregnancy BMI was not associated with the daughters' breast cancer risk during adulthood. Weight gain during pregnancy also was not found to be associated with daughters' breast cancer risk. The authors of this study concluded that the known association between birth weight and breast cancer risk is likely due to factors independent of mothers' pre-pregnancy BMI or weight gain during pregnancy.
There is also some limited evidence that a father's diet can influence subsequent breast cancer risk in his daughter. One study using a rat model of breast cancer reported that a paternal high-fat diet induced increased risk of mammary tumors in female offspring.
Folic acid supplementation during pregnancy and daughter's breast cancer
There are contradictory studies regarding the effect of folic acid supplementation of pregnant mice on the subsequent development of mammary tumors in offspring. Therefore, we suggest that women who plan to have children get their folate levels checked well before becoming pregnant. This will give them the opportunity to increase their circulating folate levels through their diets (see the list of foods below) and by eliminating alcohol consumption, if necessary. Women with folate levels in the high end of the normal range might not need folic acid supplementation during pregnancy. Those that are not able to achieve this level may need to take folic acid supplements.
Harmful plastics
Plastics that may leach these substances include (1) polyvinyl chloride (PVC), which may be found in cling wrap, some plastic squeeze bottles, and cooking oil bottles; (2) polystyrene, which may be found in styrofoam food containers and disposable cups and bowls; and (3) polycarbonates, which may be found in soup and soda can linings, plastic baby bottles, water bottles, and clear plastic sippy cups. Pregnant and nursing women should avoid all but temporary, low temperature uses of these products. Plastic containers may be marked with a number in a triangle-like icon. Plastics marked 1, 2, 4 or 5 use less toxic additives in their manufacture. Products that use polyvinyl chloride should be marked with 3, polystyrene with a 6, and polycarbonate with a 7—these are the ones to avoid.
Exposure to pesticides
Smoking
Omega-3 to omega-6 fatty acid ratio during pregnancy
Whole grains
Foods to include during pregnancy and nursing
Foods and supplements to limit or avoid during pregnancy and nursing
Exposure to oncogenic viruses
Steps should be taken to avoid transmitting herpes during pregnancy or childbirth. Children should be vaccinated against measles as young toddlers and HPV as older children.
Infancy and subsequent breast cancer
Having been breastfed as an infant does not appear to influence the risk of breast cancer in adulthood. However, breastfeeding has other advantages for babies and it appears to reduce the risk of breast cancer in the mother, even if undertaken only for a short period of time. The more difficult question is whether infant formula made from cow's milk or soy is safer for our high risk daughters (little evidence is available for other types of infant formula). This is a topic that can lead to highly emotional reactions. We summarize the available scientific evidence in the following two sections.
Cow's milk formula
Soy formula
Additional comments
Selected breast cancer studies