Protecting our sons from breast cancer
Last updated: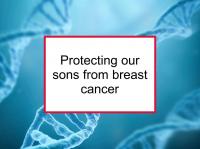 Protecting our sons from breast cancer
These generally fall under diet and lifestyle factors, although minimizing exposure to certain pollutants and ionizing radiation are also important.
Protecting our sons from breast cancer during infancy
Boys should be vaccinated against mumps to prevent possible damage to the testicles associated with mumps.
Childhood exposure to oncogenic viruses
Steps should be taken to avoid transmitting herpes to children during pregnancy or childbirth. Boys should be vaccinated against measles as young toddlers and HPV as older children. Children should not be served raw milk and uncooked beef, both of which are possible sources of BLV infection, as noted above. Although it is possible that MMTV is more often transmitted between humans rather than being passed directly from mice, it makes sense to avoid exposing children to mice, including pet mice.
Some childhood personal care products contain endocrine disruptors
Childhood weight and exercise and subsequent breast cancer
Childhood radiation treatment increases breast cancer risk
Whether used to treat or to diagnose illness, radiation to the chest or back (including x-rays, CT scans, and radiation treatment) during childhood can result in breast cancer in adulthood. While such radiation normally is administered for medically necessary reasons, parents of boys at high risk for later breast cancer should pay attention to the degree of exposure and try to limit it, where possible. Parents should also make sure that the chest is fully protected when radiation is administered to the head or neck or other areas close to the chest or back.
Childhood diet
Exposure to environmental carcinogens
Children and adults alike should avoid all but temporary, low temperature uses of these products. Plastic containers may be marked with a number in a triangle-like icon. Plastics marked 1, 2, 4 or 5 use less toxic additives in their manufacture. Products that use polyvinyl chloride should be marked with 3, polystyrene with a 6, and polycarbonate with a 7 — these are the ones to avoid.
Boys who are raised on or near farms, raised by farm workers, or who are themselves farm workers may be vulnerable to the breast cancer-promoting effects of certain hormones and other chemicals used in the production of food and other products. Boys should be kept out of harm's way when such chemicals are applied. This includes greenhouse crops. Parents of boys raised on or near farms should educate themselves on the risks of the specific chemicals used there and take appropriate precautions.
Household insecticides containing lambda-cyhalothrin should also be avoided, since this chemical has been found to have estrogenic properties, including promoting the growth of hormone receptor positive breast cancer cells in the laboratory.
Summer jobs can result in harmful exposures
Men who have worked in blast furnaces, steel works, rolling mills have been observed to have a higher likelihood of breast cancer, suggesting that heat may promote breast cancer in men (in fact, occupational exposure to heat has been reported to be a breast cancer risk factor for women). Workers in machinery repair, welding trades, and manufacturing of motor vehicles also have higher risk, indicating that exposure to environmental carcinogens such as polycyclic aromatic hydrocarbons, nitrogen oxides, nitrosamines, and metal fumes in some manufacturing environments are possible contributing factors. Some military bases also have unusually high rates of male breast cancer. High-risk teenagers should avoid summer jobs involving exposure to high heat or work environments likely to result in exposure to carcinogens. These factors should also be taken into account in selecting future careers.
Body building and weight loss products
Sex change
The treatments required to induce male-to-female sex change, including castration and large doses of female hormones, lower androgen levels and increase the estrogen-to-androgen ratio, thereby increasing the risk for breast cancer. Those undergoing sex change should be made aware of the increased risk of breast cancer and be screened for it periodically.
Breast self-exams
Since men are typically not screened with mammograms, they usually find their breast cancers themselves. Higher risk teenagers should be taught to perform breast self-exams. Adding this instruction to a lesson on testicle self exam might make it more palatable.
Additional comments
Selected breast cancer studies