Prenatal exposure to BPA induces precancerous changes in offspring
Posted: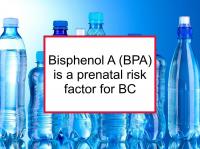 Bisphenol A (BPA) is a prenatal risk factor for BC
Originally created as an estrogenic compound, it is now used to manufacture food and beverage containers, thereby resulting in uptake with food and drinks.
There is concern that even low-dose exposure to bisphenol A could have developmental effects on hormone-responsive organs, including the breast.
In the study, the authors sought to answer the question as to whether perinatal exposure to a range of low doses of bisphenol A is sufficient to alter breast tissue hormone response later in life, with a possible impact on risk of breast cancer. The authors used a mouse model to mimic human exposure, adding bisphenol A to the drinking water of mouse breeding pairs.
The mammary glands of the female offspring of these pairs were analyzed at puberty. The analysis demonstrated that estrogen-dependent transcriptional events were modified and the number of terminal end buds (estrogen-induced proliferative structures which are considered to be targets of malignant transformation) was increased in a dose-dependent manner.
In fact, adult female offspring had an increase in mammary cell numbers comparable to that seen in females exposed to diethylbestrol (DES).
Comments regarding the study
Plastic containers may be marked with a number in a triangle-like icon. Plastics marked 1, 2, 4 or 5 use less toxic additives in their manufacture. Products that use polyvinyl chloride should be marked with 3, polystyrene with a 6, and polycarbonate with a 7 — these are the ones to avoid.
Selected breast cancer studies