Breast density and breast cancer risk and recurrence
Last updated: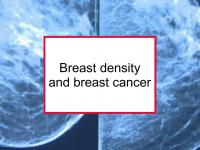 Breast density and breast cancer
Having dense reduces mammogram sensitivity
Like fibroglandular tissue, tumors and other abnormalities appear white, causing them to be more difficult to detect on the mammograms of dense breasts. For women in BI-RADS categories 1 and 2 (considered not dense breast tissue), the sensitivity of mammograms for detecting early breast cancer has been estimated to be 80%-90%. For those in categories 3 and 4, the sensitivity of mammograms is only 60%-70%.
Both breast MRIs and ultrasounds can improve the detection of breast cancer in such women. High breast density is fairly common—one study estimated that more than 40% of U.S. women aged 40 to 74 have relatively dense breasts.
Having dense breasts increases breast cancer risk
Women with dense breasts have a higher rate of second primary breast cancer (a new tumor that arises after treatment and that does not appear to be directly related to the first breast cancer).
Dense breasts can start early in life
Dense breasts run in families. High birth weight and childhood height, known risk factors for breast cancer, are associated with dense breasts. Also, older mothers (over 39 years of age) are more likely to have daughters with dense breasts.
Mammographic density has been found to be higher for women with first degree relatives with breast cancer.
Environmental and dietary factory influence breast density
Breast cancer treatment reduces breast density
Sources of information provided in this webpage
The food lists and other information above, which are updated continually as new research becomes available, have been developed based solely on the results of academic studies. Clicking on any of the foods will take you to its webpage, which contains specific information concerning that food's relationship to breast cancer (including its overall ranking), as well as links to supporting studies.
Selected breast cancer studies