Studies have not established the effect of macadamia nuts on breast cancer
Last updated: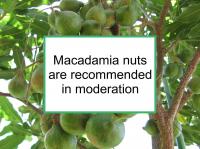 Effect of macadamia nuts on breast cancer not established
Breast cancer-related effects of eating macadamia nuts
There are no available epidemiological studies that isolate the possible impact of macadamia nut consumption on the risk of cancer for U.S. or European populations. In the absence of population studies, it is difficult to establish the likely impact of macadamia nut consumption on breast cancer risk and survival.
Palmitoleic acid, the most prevalent fatty acid in macadamia nut oil, is an omega-7 monounsaturated fatty acid that was found in one 2009 study to be associated with lower risks of benign fibrocystic breast disease and breast cancer. However, palmitoleic acid also has been associated with higher risk of breast cancer.
Additional comments
Macadamia nut oil has a high smoke point, so that it can be used as a cooking oil. Despite the high caloric and fat content of nuts, adding a moderate amount of nuts to the diet has been shown not to result in weight gain.
Selected breast cancer studies