How to optimize your breast cancer diet — an example
Last updated: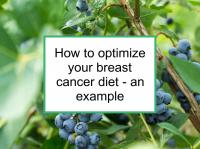 How to optimize your BC diet — an example
In this article, I use my own circumstances to provide an example of how a breast cancer survivor can optimize her diet using the information in the article
How to optimize your breast cancer diet
. Please note that I do not believe that any diet can
cure breast cancer
, but food choices can have a role in improving your prognosis.
My situation
I, Sarah Charles, am a survivor of premenopausal,
lobular breast cancer
with LCIS that is hormone receptor positive (
ER+/PR+
), HER2 negative (
HER2-
), bilateral,
multifocal
, and
familial
. My mother died of breast cancer. Initially, I was told that I had a small, stage I tumor in one breast and would need just a
lumpectomy
and
radiotherapy
. After having undergone a lumpectomy and subsequent partial mastectomy, both without obtaining clean
margins
and having noticed symptoms in the other breast, I underwent a bilateral
mastectomy
and chemotherapy. I am not currently using an
aromatase inhibitor
or
tamoxifen
.
Breast cancer type
I start making two personalized lists - one of recommended foods and another of foods to avoid - based on the information provided in the article. I decide not to include any foods in my personal avoid list that I wouldn't normally eat anyway. Similarly, I don't include any foods in my recommended list that I actively dislike.
I then decide to take a quick look at the study links at the end of the article to see if there are any findings that pertain to me in particular. I jot down bits of information from the studies to keep in mind when I finalize my list.
Breast cancer subtype
The next step is to examine the information concerning my breast cancer subtype, ER+/PR+, in the article
Foods to eat and avoid for ER+/PR+ patients and survivors.
I use this article to continue to expand my two personal lists of foods (
recommended
and
avoid
). I also note the following relevant lifestyle information from the article and related studies:
Consumption of at least five vegetables/fruits per day plus regular exercise was found to be associated with lower risk of metastasis of ER+/PR+ breast cancer.
Recent and lifetime aspirin use was found to be associated with reduced risk of breast cancer, with no differences by subtype. On the other hand, recent use of ibuprofen was significantly associated with increased risk of tumors that were hormone receptor positive (ER+/PR+).
Higher intakes of vitamin D (from both the sun and the diet) was found to be most consistently associated with a lower risk of ER+/PR+ breast cancer.
Dietary alpha-carotene, beta-carotene, and lycopene were each found to be inversely associated with the risk of ER+/PR+ breast cancer.
Consuming five or more daily servings of vegetables/fruits plus accumulating at least 540 metabolic equivalent task-minutes per week (equivalent to walking 30 minutes, six days per week) was found to be associated with a significant survival advantage and the effect was stronger in women who had hormone receptor-positive (ER+/PR+) cancers.
Finalize personal food lists
The last step is to add to my personal foods lists using those in the
recommended foods
and
foods to avoid
articles. These are more general lists of foods that have been reported to prevent or promote breast cancer without necessarily taking into account breast cancer type or subtype. However, the information I have already gathered concerning foods as they relate to my specific breast cancer type take precedence. For example, while
alcohol
should be limited for all breast cancer types, this is particularly true of my type, lobular breast cancer. Note that, for those undergoing active breast cancer treatment, the food lists based on that treatment should take highest precedence.
Again, I only include foods that I like or am interested in trying in my recommended list and foods I might be tempted to consume in my avoid list. This means that the lists below are customized for me.
Sarah's recommended list
Sarah's avoid list
I keep the lists handy to consult in making shipping lists and to evaluate and modify recipes.
How I manage to eat six to nine servings of fruits & vegetables per day
Selecting, shopping for, and preparing multiple servings of fruits and vegetables every day can be daunting. I was having trouble with this until I hit upon the strategy of consuming one large vegetable salad and one large fruit salad every day in addition to regular meals. This means that I can enjoy pieces of fruit and whatever cooked vegetables I have for lunch or dinner without any anxiety about having to consume quite a few more servings to meet my daily goals.
I buy all the ingredients
organic
if at all possible (the cost of the salads for me and my husband is $10 to $15 per day). I prepare the vegetable salad (including dressing) in advance once per week and divide it into glass containers with
BPA
-free lids. The vegetable salads last a full week in the refrigerator, partly because I don't include any lettuce or tomatoes. I prepare the fruit salads daily. Below are my ingredients.
Sarah's vegetable salad
Main ingredients: English or Persian cucumbers (with skin), red onions. Other ingredients: Cabbage, capers, carrots, chives, fresh garlic, parsley, radicchio, shallots. Thousand Island dressing: Vegenaise mayonnaise, sugar-free ketchup, sweet pickle relish, wine vinegar.
Sarah's fruit salad
Main ingredients: Blueberries, blackberries, dried cranberries or currants, grapes, raspberries, strawberries. Other possible ingredients: Apples, cherries, kiwifruit, papaya, passion fruit, watermelon.
Not impressed with my salad ingredients? I'm having second thoughts myself. It is to be hoped that you can do better.
Final notes
It's important to eat a wide variety of foods and to accommodate any dietary restrictions due to concurrent medical conditions and medications such as blood thinners. Work with a nutritionist or dietitian (sometimes available on oncology teams) if you feel uncomfortable about obtaining the right balance of carbohydrates, protein and fats, or other aspects of the diet.