The Mediterranean diet is a good starting point for breast cancer
Last updated: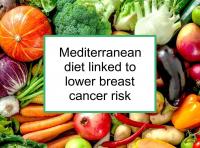 Mediterranean diet linked to lower breast cancer risk
Description of the Mediterranean diet
The Mediterranean diet is based on the diet of people living in Spain, southern Italy, and Greece in the post-World War II period when food was for the most part abundant, but modern farming and food production methods were not yet widespread. In addition, the people engaged in a great deal of physical activity in their daily lives. Only a minority of the people in the region could be said to adhere to this diet today.
The Mediterranean diet can be described with a food pyramid, with the following layers (starting with the foods consumed most often):
Mediterranean diet can translate into lower breast cancer risk
Studies that have attempted to determine whether conforming to the Mediterranean diet reduces breast cancer risk have produced conflicting results. However, there is some evidence that strict adherence to the diet could be beneficial:
Several studies have noted that a high degree of variety of vegetables consumed appears to have a beneficial effect on breast cancer risk beyond the advantage of high vegetable intake per se.
Dietary pitfalls for Mediterranean women
Bottom line
Selected breast cancer studies