Breast cancer in Asian Americans
Last updated: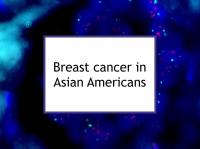 Breast cancer in Asian Americans
Childhood diet can also help determine breast cancer risk in adulthood. Increases in breast cancer rates among Asian Americans highlight the need for breast cancer screening in groups that may not perceive themselves as being at significant risk for breast cancer.
Rates of breast cancer have been increasing among Asian Americans
Breast cancer rates are substantially higher in the U.S. than in Asia. When Asian women migrate to the U.S., their breast cancer rates rise over several generations. However, one study concluded that breast cancer risk among recent Asian immigrants may be higher than among their U.S.-born counterparts, perhaps because they have higher socioeconomic status (which has been linked to increased breast cancer risk) than previous generations of immigrants. Also, rates of breast cancer have been increasing in some Asian American groups beyond the level of the general population.
East Asian and Pacific Islander ancestry
Breast cancer rates among Asian Americans are higher than that of women living in Asia. A study that compared the incidence of breast cancer in Asian countries with their Asian American counterparts for the period 1993-2002 reported that the breast cancer incidence among ethnically Asian women living in the U.S. was 1.5 to 4 times higher than the corresponding incidence in the women's respective countries of origin.
A major 2021 study that examined breast cancer trends from 2003 to 2017 reported that while the proportion of women dying from breast cancer were similar in Asian Americans overall and non-Hispanic whites, the results differed when analyzed by subgroup. Filipina, Korean, and Chinese were found to have had increased breast cancer mortality rates over the study period whereas the rates for Japanese and white women decreased.
South Asian ancestry
A 2011 study of U.S. women from India and Pakistan found that these breast cancer patients had significantly younger median age at diagnosis, larger tumor size, higher tumor stage and grade, more positive lymph-nodes, and more ER-/PR- disease than white women. While the age-adjusted incidence of breast cancer was lower in South Asian women, their five-year survival rate (84%) was lower than that of white women (89%). In other words, U.S. women of South Asian background have lower rates of breast cancer than white women, but when they do develop the disease, it is more aggressive and more deadly.
Asian American women have different mix of breast cancer types
Another study examined the distributions of ER and PR status across five ethnic groups in Hawaii and Los Angeles. ER/PR status was found to vary significantly across racial/ethnic groups. The highest fraction of ER-/PR- tumors was seen in African Americans (31%), followed by Latinas (25%), whites (18%), Japanese (14%), and Native Hawaiians (14%).
Most breast cancer risk factors hold across races
Soybeans reduce premenopausal breast cancer risk
Other foods common in Asia also reduce breast cancer risk
Some Asian dietary patterns are associated with breast cancer risk
A number of Asian and Asian American studies have taken into account dietary patterns in evaluating the influence of food on breast cancer risk:
Regular breast cancer screening is important
Selected breast cancer studies