Screening mammograms should start at age 40
Last updated: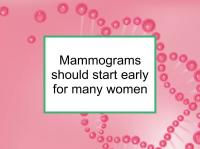 Screening mammograms should start at age 40
Factors linked to increased risk of breast cancer
Unfortunately, most cases of breast cancer among women in their 40s are found in those not in a traditional high risk group. For example, one study of women aged 40 to 49 (who were screened with mammograms and found to have breast cancer) reported that invasive breast cancer was diagnosed with equal frequency in women presenting with or without a family history.
Women of color are at higher risk of aggressive BC at young age
Overdiagnosis is not solved by restricting the use of mammograms
The underlying problem contributing to overdiagnosis is not that women are having unnecessary mammograms but rather that mammograms need to improve. False positives, false negatives, and problems evaluating mammograms of women with dense breasts are all emblematic of difficulties with regard to mammogram accuracy. More precise screening mammograms and other forms of breast cancer screening are needed.
Selected breast cancer studies