Soy protein results in more tumors than casein diet in obese mice
Posted: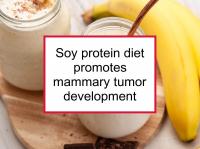 Soy protein diet promotes mammary tumor development
Soy protein has been shown to improve glycemic control in diabetic postmenopausal women and to improve insulin sensitivity in female monkeys whose ovaries have been removed.
Concerns about soy protein isolate
Latest research finds soy protein increases tumors in obese mice
The study referenced above was designed to investigate the effects of a soy protein diet with high isoflavone levels in combination with obesity on circulating isoflavones, as well as the effect on mammary tumor development in a mouse model of breast cancer. To conduct the study, the authors used 45 obese and 54 lean female Zucker rats. Obesity has been shown to increase the susceptibility of Zucker rats to development of mammary tumors as a result of exposure to the carcinogen DMBA (7,12-dimethylbenz(a)anthracene).
Among lean rats, 50% of the soy-fed animals developed mammary tumors compared to 69% of the casein-fed animals by the end of the experiment. However, among the obese rats, 76% of the soy-fed animals developed mammary tumors compared to only 15% of the casein-fed rats. Daidzein and genistein concentrations were comparable in the lean and obese soy-fed rats. However, equol concentration were significantly lower in the obese (compared to lean) soy-fed rats.
The authors conclude that obese rats fed a soy protein diet containing high isoflavone levels experienced greater tumor development in response to the carcingogen DMBA than obese rats fed a casein-based diet. In addition, the obese soy-fed rats had significantly lower plasma equol levels than the lean soy-fed rats. This reduction in circulating equal might have had a role in soy's impaired cancer chemopreventative effects in this obese breast cancer model, according to the authors.
Selected breast cancer studies