Soy protein may heighten risk of BC by influencing cell signaling
Posted: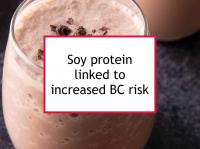 Soy protein linked to increased BC risk
The tomato-rich diet was found to have little effect on cell-signaling biomarkers previously associated with risk of breast cancer. However, the soy protein supplement intervention resulted in small, but significant, increases in concentrations of IGF-1 and IGFBP-3, as well as a reduction in SHBG. Like increases in insulin-like growth factors, low levels of SHBG have been hypothesized to promote cancer growth. The authors comment that previous epidemiological studies, however, have confirmed soy's protective effect on breast cancer. Additional investigation regarding the effect of soy on breast cancer risk and its mechanism of action appears warranted.
Comments regarding the study
Selected breast cancer studies