Soy supplement promotes BC proliferation
Posted: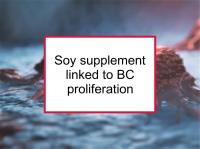 Soy supplement linked to BC proliferation
Soy supplements are not useful
A number of studies have reported that genistein and daidzein supplements are not successful in relieving menopausal symptoms. Not all studies are in agreement, but such supplements appear to be ineffective in reducing hot flashes and vaginal dryness, or preserving bone mineral density, mental acuity or thyroid function.
Latest research finds soy isoflavones may promote proliferation
The study referenced at the beginning of this news story was designed to investigate the effects of soy supplementation on breast cancer-related genes and signaling pathways. The study included 140 women with early stage breast cancer who were assigned to two groups of 70. The soy group received a soy protein supplement for seven to 30 days between diagnosis and surgery. The remaining group received a placebo.
The authors conclude that soy intake and high circulating genistein is associated with genes that drive cell cycle and proliferation pathways. These findings raise the possibility that soy supplements could adversely affect breast cancer gene expression in some women, according to the authors.
Selected breast cancer studies