Soy protein isolate may increase PR expression & tumor aggressiveness
Posted: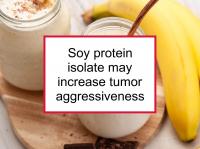 Soy protein isolate linked to tumor aggressiveness
A study designed to investigate mammary tumor progression in rats fed soy protein isolate has reported that this diet is associated with increased progesterone receptor (PR) expression and tumors with more aggressive features. Increased consumption of soy and soy isoflavones (genistein and daidzein) have been reported to reduce breast cancer risk in women and in animal models of breast cancer.
In one study, dietary intake of soy protein isolate in rats treated with a carcinogen to induce mammary tumors reduced tumor numbers but increased the number of more invasive tumors compared to rats on a control diet of milk protein (casein). The breast tissue of women consuming dietary soy supplements has been reported to have increased PR expression, whereas PR expression in the breast tissue of women on soy food-based diets has been found to be lowered.
In the current study, the authors evaluated whether mammary tumor progression in tumor-bearing rats exposed to soy protein isolate is associated with expression of progesterone receptor A (PR-A) and progesterone receptor B (PR-B).
PR-A levels were found to be higher in normal mammary glands in the soy protein isolate-fed rats than in the milk protein group, whereas PR-B levels did not differ according to diet. Increased mammary PR-A expression was found to be associated with more aggressive tumor characteristics.
Progesterone
levels were lower and estrogen (
estradiol
) levels were higher in the soy protein isolate-fed rats compared to the milk protein-fed rats.
The authors conclude that soy-rich diets may influence the development of more aggressive tumors by increasing expression of PR-A and enhancing PR-A-dependent signaling in premalignant breast tissues.
Selected breast cancer studies
Early Soy Exposure via Maternal Diet Regulates Rat Mammary Epithelial Differentiation by Paracrine Signaling from Stromal Adipocytes

Cite

Su Y, Shankar K, Simmen RCM. Early Soy Exposure via Maternal Diet Regulates Rat Mammary Epithelial Differentiation by Paracrine Signaling from Stromal Adipocytes. The Journal of Nutrition. Oxford University Press (OUP); 2009; 139:945-951

10.3945/jn.108.103820

Changes in biomarkers of estrogen receptor and growth factor signaling pathways in MCF-7 tumors after short- and long-term treatment with soy and flaxseed

Cite

Power KA, Chen JM, Saarinen NM, Thompson LU. Changes in biomarkers of estrogen receptor and growth factor signaling pathways in MCF-7 tumors after short- and long-term treatment with soy and flaxseed. The Journal of Steroid Biochemistry and Molecular Biology. Elsevier BV; 2008; 112:13-19

10.1016/j.jsbmb.2008.07.003

Reduced mammary tumor progression in a transgenic mouse model fed an isoflavone-poor soy protein concentrate

Cite

Chiesa G, Rigamonti E, Lovati MR, Disconzi E, Soldati S, Sacco MG,

et al

. Reduced mammary tumor progression in a transgenic mouse model fed an isoflavone-poor soy protein concentrate. Molecular Nutrition & Food Research. Wiley; 2008; 52:1121-1129

10.1002/mnfr.200700296