E-cigarettes promote mammary tumor growth and metastasis
Posted: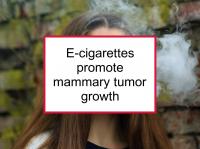 E-cigarettes promote mammary tumor growth
For example, a number of studies have reported that smoking during the teenage years contributes disproportionately to subsequent breast cancer risk. In addition, cigarette smoking is associated with increased risk of breast cancer-specific death (as well as death from other causes) among breast cancer survivors.
Latest research finds E-cigarettes promote mammary tumor growth
The study referenced above was designed to investigate how E-cigarettes influence tumor development and metastasis in an animal model of breast cancer. The authors hypothesized that E-cigarette exposure can drive breast cancer-monocyte/tumor-associated macrophage (TAM) crosstalk via CCL5 and V-CAM-1 axes in ways that could promote breast cancer. Monocyte subpopulations previously have been shown to be significantly altered by the presence of breast cancer. Furthermore, an auto-regulatory loop between TAMs and cancer cells can be driven by self-reinforcing processes involving CCL5 and V-CAM-1.
Secondly, the authors used cell studies to demonstrate that treatment with E-cigarette vapor condensate upregulated expression of CCL5, V-CAM-1, and other tumor-promoting factors in breast cancer cells. A co-culture system designed by the authors showed that E-cigarette vapor condensate and macrophages both independently stimulated breast cancer cell growth and migration via the CCL5/CCR1/CCR5 axis. Furthermore, E-cigarette exposure was found to enhance breast cancer cell survival directly through interaction with infiltrated macrophages during metastasis. The authors conclude that E-cigarettes promote breast cancer growth and metastasis.
Selected breast cancer studies