High salt diet linked to breast cancer progression
Posted: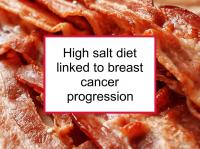 High salt diet linked to breast cancer progression
Latest research shows how high salt diet could promote metastasis
The study referenced above was designed to investigate the role of a high salt diet in the progression of breast cancer in an animal model of breast cancer. The authors also examined how such a diet influences the tumor microenvironment. To conduct the study, the authors used MMTV-PyVT mice, who form mammary tumors spontaneously. The mice were divided into groups and fed either a specially designed high salt (sodium chloride) diet or a normal control diet. The authors also performed cellular experiments to understand the mechanism of action of high levels of salt.
The high salt diet was found to accelerate the development of mammary tumors and subsequent lung metastasis in MMTV-PyVT mice compared to the normal diet. Furthermore, mice on the high salt diet were found to have an increased proportion of Th17 lymphocytes in circulation, in tumor tissue, and in draining lymph node tissue. Th17 cells are a type of pro-inflammatory T cell which mediate the recruitment of neutrophils and macrophages to tissues requiring an immune response.
Selected breast cancer studies