Walnut compounds have chemopreventive actions
Posted: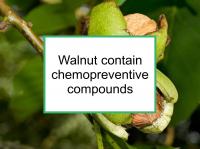 Walnuts contain chemopreventive compounds
One study demonstrated that walnut extract induced beneficial changes in gene expression in ER+/PR+ breast cancer cells, including decreased expression of genes that have been linked to cancer progression. Other studies have reported that mammary tumor number and size was reduced in mice fed walnuts. Now a new review has summarized the health benefits of walnuts.
Making the most of walnut consumption
Latest review reports pedunculagin is the main walnut polyphenol
The study referenced at the beginning of this news story was designed to investigate the micronutrient content and benefits of walnuts. Walnuts have traditionally been known for their favorable fatty acid profile, which has been found to have multiple health-promoting effects.
However, walnuts also contain other bioactive compounds, including vitamin E and various polyphenols (the most abundant antioxidants in the typical diet). In fact, among foods commonly consumed, walnuts are one of the most important sources of polyphenols. The main walnut polyphenol is pedunculagin, an ellagitannin.
A number of studies have examined the potential role of ellagitannins against disease initiation and progression, including cancer, in addition to cardiovascular and neurodegenerative diseases.
The remainder of the authors' review summarizes current findings regarding the potential effects of walnut polyphenols in the maintenance of health and prevention of disease.
Selected breast cancer studies