Walnut compounds impair BC energy supply and induce cell death
Posted: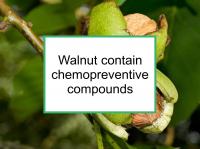 Walnuts contain chemopreventive compounds
Latest research reports how walnuts act against breast cancer
Next, the authors identified the compounds in the walnut extract that produced this effect. The main compounds were found to be the ellagitannins Tellimagrandin I and Tellimagrandin II. Ellagitannins are a type of polyphenol tannin. Finally, the authors investigated the specific effects of the walnut extract on the cancer cells. Walnut extract was shown to reduce cellular pH and depolarize the mitochondrial membrane. In addition, walnut extract produced a twofold reduction of mitochondria respiration.
Mitochondria are the cell's "power plants" and are required for normal cell functioning. Recent research suggests that cancer cells also rely on newly generated mitochondria for the additional energy required to migrate through tumor and normal breast tissue, travel in blood vessels, and penetrate new organs.
The authors conclude that programmed cell death and impairment of mitochondrial function underlie the anticancer effects of walnut extract.
Selected breast cancer studies