High dietary selenium is associated with increased BC survival
Posted: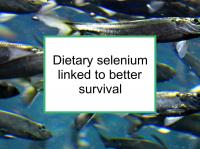 Selenium linked to better survival
Food sources of selenium
The amount of selenium in plant food is dependent on the amount in the soil, which varies by region. Brazil nuts are by far the richest dietary source of selenium. One Brazil nut provides 100 to 300 mcg of selenium. The following foods are sources of selenium in the diet while also protecting against breast cancer:
Latest research finds dietary selenium improves survival
The prospective study referenced at the beginning of this news article was designed to investigate whether dietary selenium is associated with breast cancer survival. The study included 3,146 women with invasive breast cancer in Swedish Mammography Cohort. A food frequency questionnaire completed in 1987 was used to assess selenium intake before the diagnosis of breast cancer. The women were followed through 2009, during which time there were 416 breast cancer-specific deaths and 964 deaths from all causes (including breast cancer).
Dietary selenium intake was found to be positively associated with breast cancer-specific survival and overall survival. The women were divided into four groups based on their selenium intake. Women with the highest level of selenium consumption had a 31% lower risk of death from breast cancer compared to those with the lowest level.
Bottom line for breast cancer survivors
The message we take from this study and others concerning selenium is that selenium-rich foods are beneficial for breast cancer survivors. However, women should avoid overconsuming Brazil nuts - an average of one nut per day would be a reasonable intake. Generally speaking, selenium supplements are neither necessary nor advisable.
Selected breast cancer studies