Orange flavonoid hesperidin could interfere with cyclophosphamide
Posted: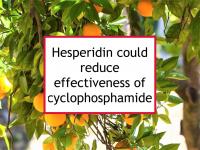 Hesperidin could reduce effectiveness of cyclophosphamide
Food sources of hesperidin
Latest research finds hesperidin could interfere with cyclophosphamide
The study referenced at the beginning of this news article was designed to investigate the effects of hesperidin on the actions of cyclophosphamide in mice. Hesperidin has been shown to have chemoprotective effects in tumor cells. In the first experiment, normal mice were treated with hesperidin and then administered a cyclophosphamide injection. Control mice did not receive any hesperidin. Compared to the control mice, the hesperidin-treated mice experienced less decline in the number of white blood cells (induced by cyclophosphamide). White blood cell counts were higher at four and seven days after the cyclophosphamide injection.
A second experiment used mice bearing colon carcinoma (CT-26) tumors rather than normal mice. Treatment with cyclophosphamide will cause tumors to grow more slowly in such mice. Administration of hesperidin was found to significantly inhibit cyclophosphamide-induced tumor growth delay. In other words, mice treated with hesperidin had increased tumor development compared to control animals that did not receive hesperidin. The authors conclude that hesperidin interacts with cyclophosphamide to inhibit its antitumor effect.
Selected breast cancer studies
Effect of flavonone hesperidin on the apoptosis of human mammary carcinoma cell line MCF-7

Cite

Natarajan N, Thamaraiselvan R, Lingaiah H, Srinivasan P, Maruthaiveeran Periyasamy B. Effect of flavonone hesperidin on the apoptosis of human mammary carcinoma cell line MCF-7. Biomedicine & Preventive Nutrition. Elsevier BV; 2011; 1:207-215

10.1016/j.bionut.2011.07.001

Antigenotoxic effect of apigenin against anti-cancerous drugs

Cite

Siddique YH, Beg T, Afzal M. Antigenotoxic effect of apigenin against anti-cancerous drugs. Toxicology in Vitro. Elsevier BV; 2008; 22:625-631

10.1016/j.tiv.2007.12.002

Influence of orange juice over the genotoxicity induced by alkylating agents: an in vivo analysis

Cite

Franke SIR, Prá D, Erdtmann B, Henriques JAP, da Silva J. Influence of orange juice over the genotoxicity induced by alkylating agents: an in vivo analysis. Mutagenesis. Oxford University Press (OUP); 2005; 20:279-283

10.1093/mutage/gei034