Fruit consumption in adolescence linked to lower BC risk
Posted: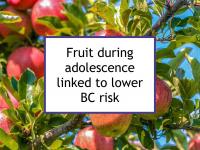 Fruit during adolescence linked to lower BC risk
Other adolescent breast cancer risk factors
Breast tissue is particularly vulnerable to carcinogens during adolescence since it represents a period of rapid proliferation and differentiation of cells.
Latest research finds adolescent fruit consumption could lower risk
The prospective study referenced at the beginning of this news story was designed to investigate the links between breast cancer risk and fruit and vegetable intake during the teenage years and young adulthood. The study was based on data from women in the Nurses' Health Study II, including 90,476 premenopausal women aged 27-44 who completed a diet questionnaire in 1991. Data was also used from women who completed a questionnaire concerning their adolescent diet in 1998 (a total of 44,223 of the original participants).
A total of 3,235 cases of invasive breast cancer had been diagnosed among participants by 2013, of whom 1,347 had completed a questionnaire about their diets during their teenage years (ages 13-18).
Total fruit consumption during adolescence was found to be associated with lower risk of breast cancer. Teenage girls in the highest fifth of fruit consumption (a median of close to three servings per day) had a 25% lower risk of breast cancer than those in the lowest fifth (a median of half a serving per day). The risk reduction conferred by adolescent fruit intake was found to be stronger for ER-/PR- than ER+/PR+ disease.
The authors conclude that higher fruit intake is associated with lower risk of breast cancer. The study results demonstrate that food choices during adolescence could be particularly important.
Selected breast cancer studies