Carrot consumption linked to reduced risk of breast cancer
Posted: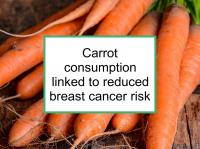 Carrot consumption linked to reduced breast cancer risk
Food sources of beta-carotene and/or alpha-carotene
Latest research links high carrot consumption to reduced BC risk
The meta-analysis referenced above was designed to investigate the association between dietary carrot intake and breast cancer risk. To conduct the study, the authors identified relevant epidemiologic studies through September 2017. Data from 10 studies, which included 13,747 cases, were included in the analysis.
The risk of breast cancer using the combined data was found to be approximately 21% lower for women with the highest carrot compared to the lowest carrot intake levels, although there was significant variation in the individual study results. Also, the inverse associations between carrot consumption and breast cancer risk were more pronounced in case-control studies than in population studies. However, the inverse associations did not significantly differ according to geographical region, study quality, or exposure assessment. Omitting any of the studies individually had little effect on the combined results. The authors conclude that the results suggest that dietary carrot intake is associated with reduced breast cancer risk.
Selected breast cancer studies