Certain fruits and vegetables linked to lower breast cancer risk
Posted: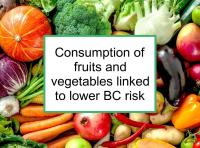 Consumption of fruits and vegetables linked to lower BC risk
Certain vitamin and mineral deficiencies have been linked to increased breast cancer risk. However excessively high levels of some micronutrients (obtained through supplements) have the potential to increase risk.
Diet-related studies have sometimes produced inconsistent or contradictory results, in part because of differences of aspects of study design and how diet is measured. Nevertheless, the results of large, carefully designed studies can encourage women to move from unhealthy cancer-promoting diets to healthier eating patterns.
Cruciferous and yellow/orange vegetables
Latest research finds effect of fruits & vegetables varies by BC subtype
The study referenced above was designed to investigate the associations between fruit and vegetable consumption and breast cancer risk, and included analyses according to specific fruits and vegetables, menopausal status, and breast cancer subtype. The study included 182,145 women (aged 27 to 59 at enrollment) in the Nurses' Health Studies (NHS, 1980‐2012 and NHSII, 1991‐2013), which are prospective studies. Fruit and vegetable consumption was averaged across repeated, validated questionnaires. A total of 10,911 of the participants were diagnosed with invasive breast cancer during the study periods.
Selected breast cancer studies