Fish oil supplements reduce risk of ductal breast cancer
Posted: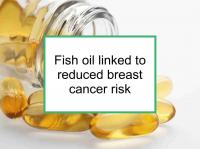 Fish oil linked to reduced breast cancer risk
A new prospective study has reported that consumption of fish oil supplements is associated with reduced risk of breast cancer. The study was designed to investigate the influence of nonvitamin, nonmineral specialty supplements on breast cancer risk. The use of specialty supplements has greatly increased over recent decades.
Some of these supplements may have anti-inflammatory or anticancer activities. In addition, supplements taken to relieve symptoms of menopause have been associated with reduced risk of breast cancer in two case-control studies.
However, until now there have been no prospective studies of the association between the long-term use of such supplements and risk of breast cancer. The study included 35,016 postmenopausal members of the VITamins And Lifestyle (VITAL) Cohort aged 50 to 76. The women, who did not have a history of breast cancer at the beginning of the study, completed a 24-page baseline questionnaire about their use of non-vitamin, non-mineral supplements during the enrollment period of 2000 to 2002.
During the 2000 to 2007 follow-up period, 880 of the study participants were diagnosed with invasive breast cancer. Current use of fish oil was found to be associated with a 32% reduced risk of breast cancer. However, while the risk of ductal breast cancer was reduced, the risk of
lobular
breast cancer was not.
Breast cancer risk was not found to be influenced by any of the other specialty supplements studied, including those sometimes taken for menopausal symptoms (
black cohosh
, dong quai, soy, or
St. John's wort
).
The authors conclude that fish oil may be inversely associated with breast cancer risk.
Selected breast cancer studies