Resveratrol enhances the effectiveness of Adriamycin in ER+/PR+ cells
Posted: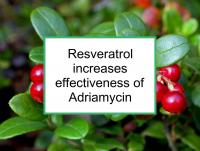 Resveratrol increases effectiveness of Adriamycin
Best food sources of resveratrol
Resveratrol supplements are not recommended
Efforts are under way to develop drugs based on resveratrol that can be used to increase the potency of chemotherapy. In the mean time, we urge those undergoing breast cancer treatment to obtain resveratrol by consuming foods rather than taking it in supplement form.
Latest research shows how resveratrol enhances the cytotoxicity of Adriamycin
The study referenced at the beginning of this news story was designed to find proteins in hormone receptor positive MCF-7 breast cancer cells that are affected by resveratrol in a way that suggests enhanced chemopreventive or treatment effects. The authors observed significant changes in the expression of a total of 16 proteins in resveratrol-treated MCF-7 cells, including heat shock protein 27 (HSP27).
HSP27 overexpression has been associated with inhibition of cancer cell apoptosis (programmed cell death) and resistance to cancer treatment. The authors first showed that resveratrol induced apoptosis in MCF-7 cells. They then evaluated the chemosensitization effect of increasing concentrations of resveratrol in combination with Adriamycin in MCF-7 breast cancer cells, demonstrating that resveratrol effectively sensitized MCF-7 cells to the treatment. Finally, the authors evaluated the role of HSP27 inhibition in treatment effectiveness, finding that HSP27 inhibition enhanced the cytotoxicity of Adriamycin.
The authors conclude that resveratrol could potentially improve the therapeutic effects of Adriamycin. In addition, altering HSP27 levels using natural agents such as resveratrol might be an effective adjuvant in breast cancer therapy.
Selected breast cancer studies