Animal fat, especially from red meat, linked to increased BC risk
Posted: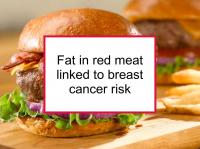 Fat in red meat linked to breast cancer risk
Consumption of saturated fat has also been found to be associated with reduced survival after a diagnosis of breast cancer. Now a major new study has reported that animal fat consumption is associated with increased risk of breast cancer.
Meat and breast cancer risk
HCAs, which are potent breast carcinogens, are produced in meat and fish when cooked at high temperatures. Based on published studies, the worst to the least harmful methods of cooking meat and fish appear to be grilling, barbecuing, pan frying, oven broiling, deep frying, stir frying, oven baking, and stewing. Cooking meat at high temperature until it is well done produces far higher levels of carcinogens than cooking it until it is medium rare. The char on meat and pan drippings used to make gravies have particularly high levels of HCAs.
Latest research finds link between animal fat and breast cancer
The large prospective study referenced at the beginning of this news story was designed to investigate the association between fat consumption and risk of breast cancer. The study included 88,804 initially cancer-free women aged 26 to 45 in the Nurses' Health Study II. Dietary fat intake was assessed by questionnaire at intake in 1991. Participants were followed for 20 years through 2011. Results were adjusted for demographic, anthropometric, lifestyle, and dietary factors. A total of 2,830 women developed breast cancer during the study period.
The authors conclude that early adult consumption of animal fat is associated with increased breast cancer risk.
Selected breast cancer studies