Red meat consumption during adolescence linked to premenopausal BC
Posted: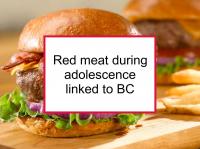 Red meat during adolescence linked to BC
Breast cancer risk factors during adolescence
Latest research finds red meat increases subsequent breast cancer risk
The prospective study referenced at the beginning of this news story was designed to examine the associations between adolescent red meat and other protein consumption and breast cancer risk. The study included 44,231 women enrolled in the Nurses' Health Study II at ages 33 to 52 and followed for 13 years. Participants completed a detailed food questionnaire in 1998 covering diet during adolescence. The analysis was adjusted for established breast cancer risk factors. A total of 1,132 of the women were diagnosed with breast cancer during follow up.
Further analysis demonstrated that replacing one serving of red meat per day with one serving of poultry, fish, legumes, or nuts was associated with a 16% lower overall risk of breast cancer (i.e., both premenopausal and postmenopausal) and a 24% lower risk of premenopausal breast cancer. The authors conclude that higher consumption of red meat during adolescence was associated with increased risk of premenopausal breast cancer in this population. Substituting other protein sources for red meat during adolescence has the potential to reduce premenopausal breast cancer risk, according to the authors.
Selected breast cancer studies